SKU:
FCLAW_114MM
Availability:
In Stock
Price:
(Per Each) $6.75
These claws are clear casting epoxy resin made, which allow for flexibility to last for years of use and clarity as well as a smooth surface.
This item is for 1 (one) claw.
You can choose from 4 styles as the base style and then a color. If you have a specific color or style you would like to achieve, please mention your specifics in the User Custom Instructions textbox above. Here are the current list of styles to choose from:
Solid
Smoke
Diffused
Transparent
Dimension: 114mm (4 1/2") circumference around widest part.
Item is available to ship in 5 to 14 days, depending on availability.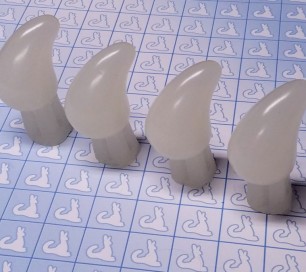 Resin Claw - Feet 114MM - Pre-made (Bone, Set of 4)
$10.00