Hands and Feet Construction
The hand paws are made to fit with your dimensions. With the thumb separate from the rest of the paw it fits more natural like a glove.
For more of a toony option the paws can be enlarged and stuffed with either foam or fill to achieve a plush and exaggerated appearance.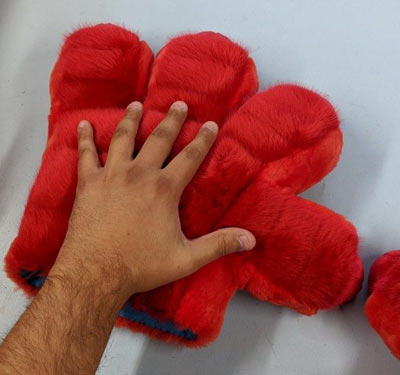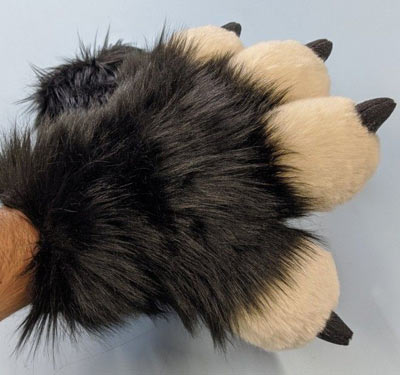 Parade and Realistic Feet Paws
The feet paws are hand carved and created to fit like a comfortable slipper that you can wear for hours.
It starts off with urethane foam that is carved and hollowed out to allow for the foot to rest inside (going by your shoe size). Then a soft spandex material liner is attached on the inside and continues up the cuff of the foot paw.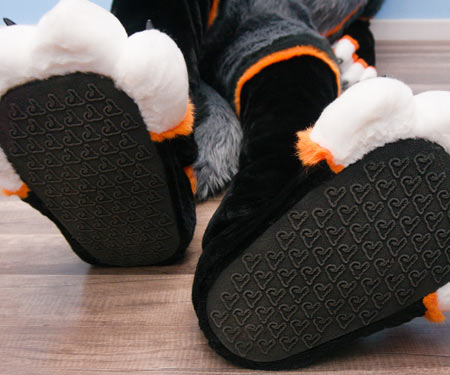 The fur is sewn and adhered to the foam, and depending if you choose parade or realistic a thick rugged rubber underside is applied to the bottom for parade feet.
For realistic sets the bottoms are hand sculpted with a plush fur underside. This option allows for paw pads to be applied which can be made from a variety of materials such as cuddle fur, faux leather, suede, silicon, etc.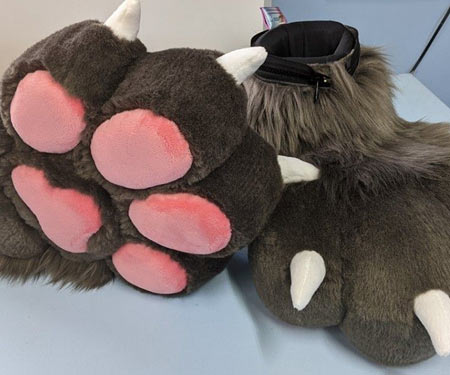 Hard resin or soft foam claws are available to complete and further customize your paws. For the resin option custom colors, fades, transparency and LEDs are offered.
For characters with hooves these can be made out of soft foam, rigid foam, rubber or hard resin.
Care Instructions and Lost & Found
All paws have a tag that contains an unique QR code that when scanned will show detailed instructions how to take care of, clean, and to report lost & found. So in case your paws get lost whoever finds your paws can scan the code and then click the option to report lost, and you will receive a notification.
These QR tags are also available on the body suit, head, tail and any other accessories.
Can also be transferrable to another account if changing ownership.