Attachment
Belt-loop
Wide belt
Zippered
Permanently attached
Tails can be made with a polyfill stuffing or foam base. They can either be permanently attached to the body suit or made to be removable so you can wear as a partial configuration without the body suit.
Belt-loop style tails are great for straight canine/feline and can easily be mounted to any belt. Easy for partial suiting but tail hangs down and sags.
Wide Belt has an attached neoprene belt that velcros around for support (very similar to a workout kidney belt). Usually used for larger tails but can help with keeping them more stiff or vertical (like husky tails) and makes it easier to wag.
Zippered attached tails are best for larger or more complicated patterns that need the body to flow better with the tail. Helps with hiding the opening and can be made with a wide belt to allow use as a partial.
Depending on the size, a wide belt attachment might be necessary for larger tails.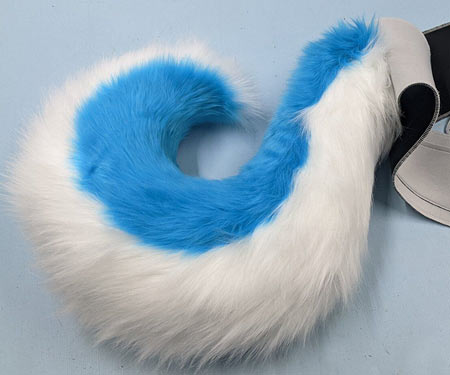 Other options can include a zipper for easy maintenance, allowing you to re-adjust the inside and ease of washing. A hidden zipper pocket could also be made.